NEANIAS Open Call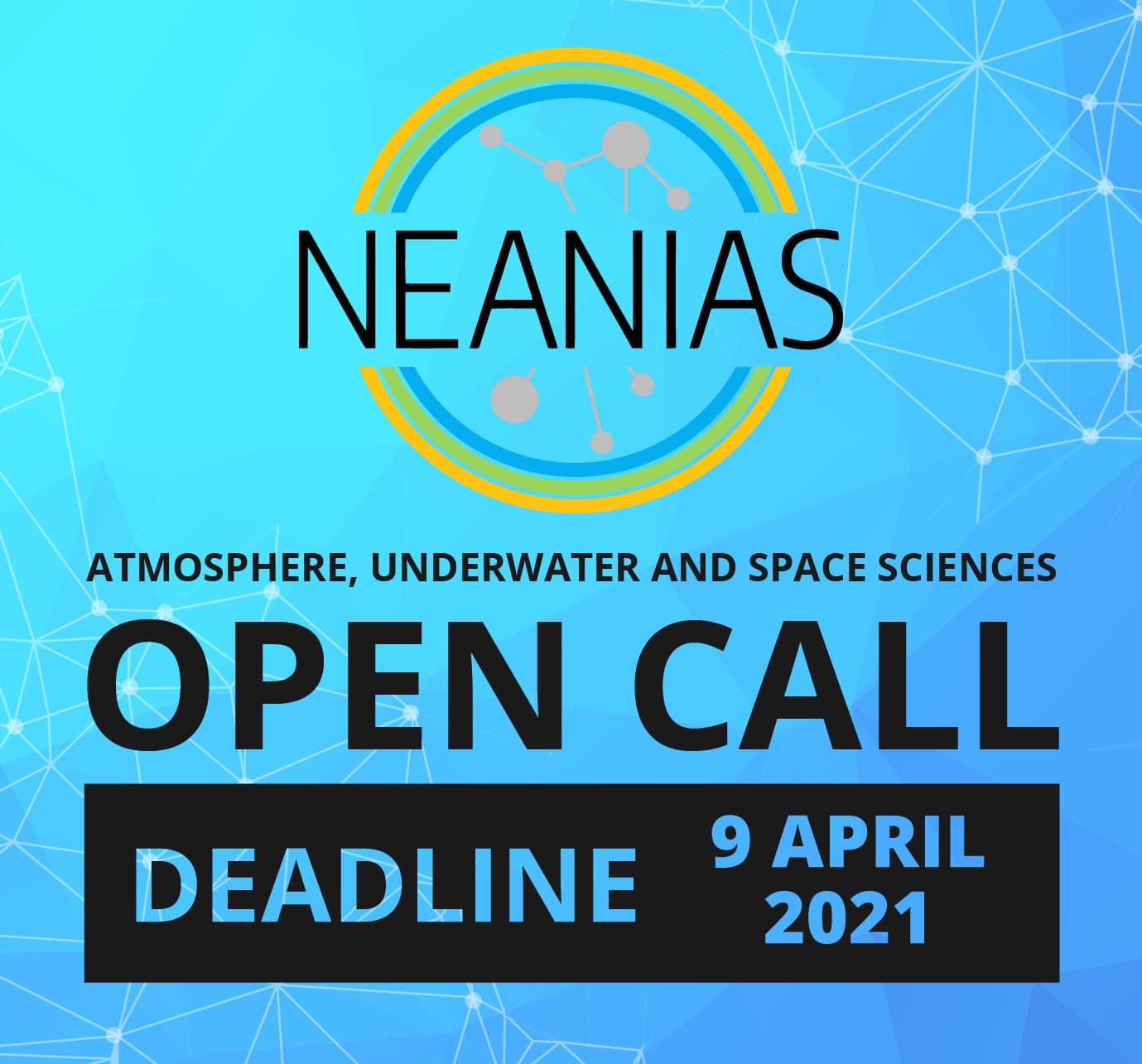 Do not miss our online Webinar, on the 17 March, at 15:00 CET, where present the project, the awards, the application process, and everything you need to know about the Open Call.
The programme:
15:00-15:10 Katalin Kovács, innomine Group: presenting the Open Call of NEANIAS
15:10 – 15:30 Representatives of the Underwater, Atmospheric and Space thematic areas talk about technical details
15:30-16:00: Q&A
The registration to the webinar is open until March 16, 2021, 12:00 CET. Interested? Please, sign up here: https://bit.ly/3uTgsWD
We hope to work together soon!
ATMOSPHERE, UNDERWATER AND SPACE SCIENCES
OPEN CALL
Apply for our unique program with a 24.000 EUR non-refundable support to validate your innovative idea and boost the development with NEANIAS experts for FREE!
Call for proposals with a deadline of 9 April 2021 opens for Companies and Teams of individual researchers to utilise the services developed within the NEANIAS project.
Prizes
Total of 24.000 EUR non-refundable support, of which at least 12.000 EUR will be allocated among the winners in the first Open Call:
Prices will be assigned in the form of:
Direct payment of the "legal entity" for performing the work under the proposal.
Direct payment of an individual of the team for performing the work under the proposal.
The Selection Process
Submission: you are submitting your application by filling out the form – it requires a maximum of 20 minutes
Evaluation:

our internal expert creates a first evaluation of your application
interview prepared with NEANIAS experts

Selection and granting:

based on the evaluation of experts you will receive an individual score
we will inform you within 1 month about the result of your application
Conditions
By submitting your application, you agree with the followings:
NEANIAS Partners will protect the confidentiality of your proposal, by an NDA signed by both parties.
The evaluation of applications will be made by NEANIAS experts, and are based on NEANIAS criteria and the overall scope of the project. There is no possibility of appeal against the decision taken by the NEANIAS evaluation board on the awarded projects. Appeals against decisions taken by the NEANIAS Project Partners will not be handled.
You declare, that the project you are submitting has not received any EU or Government funding. No double-funding is accepted by the NEANIAS board.